What sunglasses fit my face shape?
Posted by Beyond The Rack on 2021 Aug 18th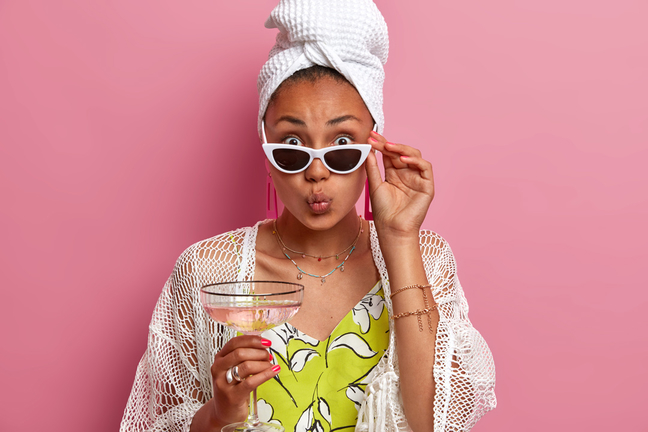 Sunglasses don't just protect your eyes from harmful UV rays. They are also a powerful fashion accessory that can be easily tailored to your unique style and face shape. Face shape is probably not something you think about often, but the shape of your face can help determine what frame shapes and sizes will best accentuate your facial features.
Which sunglasses fit my face shape? To answer this question, pull back your hair and examine characteristics like a strong jawline, full cheeks, or a small chin. Once you've narrowed down options that complement your face shape, you can choose a frame and lens color that reflects your personal style.
Find Which Trendy Sunglasses Goes Best with Your Face Shape!
There are sunglasses for all face shapes, from round and oval to square and heart-shaped. A great pair of designer sunglasses can instantly evaluate your style, whether you're sporting a little back dress or t-shirt and jeans.
Sunglasses can also be found in countless designs, such as aviator, brow line, round, retro square, cat eye, sport, brow bar, and keyhole bridge. Whether you're into casual on-the-go options or prefer a more high-fashion, glamorous look, you'll discover all your favorite styles at Beyond the Rack (BTR).
Ready to get started? To determine your face shape, follow our sunglasses for face shape guide that will connect you with the perfect pair of shades.
Sunglasses for Round Face
Round faces are generally free of sharp angles and contain features like broad cheekbones and curved jawlines. If you have a round face, the right pair of sunglasses can help you create more definition in your face. Opt for a pair that helps slim out the cheeks. Sunglasses that are slightly larger than your face with an angular frame can help give your face more structure. Avoid round sunglass shapes as these can be tricky to pull off when you have a rounded face shape. Also, steer clear of colored lenses which can draw attention to the fullness of the face.
Characteristics of a Round Face
The most common face shape among women is the round shape. Individuals with a classic round face typically have a narrow forehead and jaw with full cheekbones. Round faces are almost as long as they are wide with the cheekbones forming the widest point on the face. The chin also tends to be rounder than with an oval face. Round face shapes often create a more youthful appearance.
Your Sunglasses
Sunglasses for round face individuals aim to add structure and flatter features that may not be strongly defined. Rectangular and square sunglasses can help create sharper contours and make the face appear slimmer. Both aviator and D-frame options can add some dimension and depth and create the illusion of length.
Full-rim and semi-rimless frames also suit individuals with round face shapes. Angular-shaped glasses, such as squared wayfarer or pointed cat-eye sunglasses, are broad and angular which can bring balance to soften features and offset roundness. When selecting a color, gravitate towards darker frames which will help narrow the face and create the illusion of an oval shape.
At Beyond the Rack, you'll discover the best sunglasses for small faces and round faces, including aviator, D-frame, and angular options like cat-eye and wayfarer.
See The Ray-Ban Aviator sunglasses
Sunglasses for Oval Faces
Oval face shapes are an excellent shape to have as they look great in a wide range of sunglass styles. This highly versatile face shape tends to have higher and slightly wider cheekbones that become narrower towards the forehead. Individuals with oval face shapes can pull off nearly any style, including wide and oversized frames. They can also rock funky colors and fun textures. However, they should steer clear of frames with heavy design elements and narrow frames that can add unnecessary length to the face.
Characteristics of an Oval Face
People with oval face shapes tend to have a balanced forehead, jaw, and cheekbones. Oval faces are fairly symmetrical with a jaw that tapers evenly down to the chin. The cheeks may be more pronounced than with a round face shape with more elongated that helps create a slimmer look.
Your Sunglasses
When selecting sunglasses for oval face shapes, consider soft angular frames that can help enhance your natural features. For a more striking look, square sunglasses can create contoured angles that draw attention to the curves of the face. Round sunglasses can make a gentler impression.
Aviator and D-frame sunglasses can give individuals with an oval face a modern, fresh-faced look. Square styles help sharpen your features to create a structured appearance that reflects square face characteristics. Wide and oversized frames are popular amongst people with oval face shapes as they help balance out the face shape.
Experiment with trendy glasses for oval face shapes with our selection of female sunglasses at Beyond the Rack. You'll find all your favorite looks, from brow line to bold rectangular shades.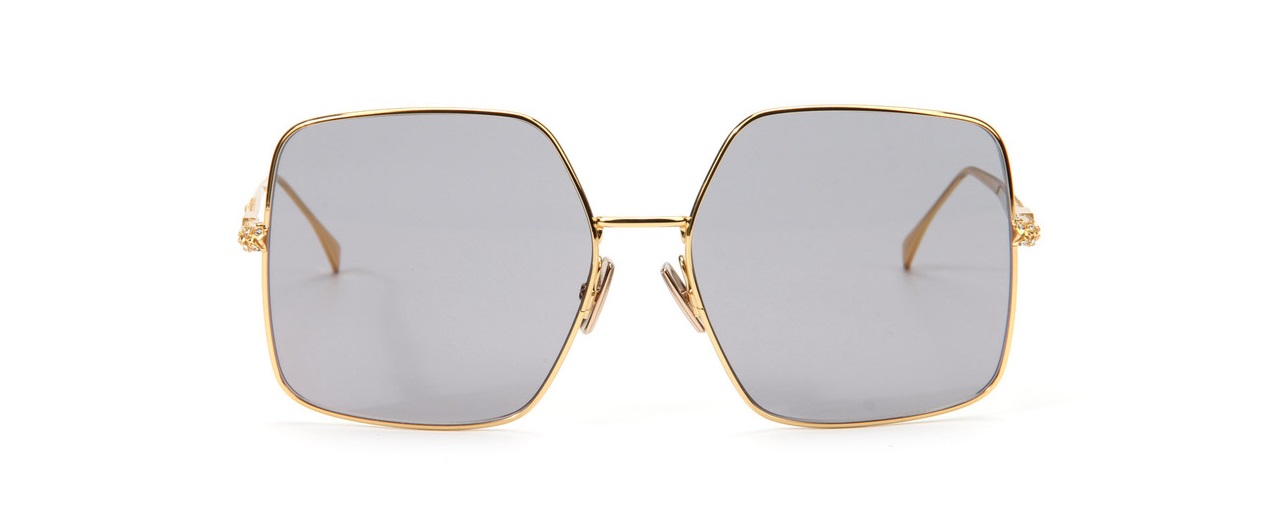 Fendi Gold mirrored sunglasses
Sunglasses for Heart-Shaped Faces
Heart-shaped faces can benefit from wearing small- and medium-sized sunglasses that help balance out a larger forehead and slender jaw. The right shades can help elongate the face while adding weight to the bottom half. When shopping for sunglasses for heart shaped face individuals, make sure that the glasses fit properly. They should not sit too far in or protrude too far on the sides. Ideally, you want to find a pair of shades that help reduce the width at the top of the face, light-colored and thin frames are great choices.
Characteristics of a Heart-Shaped Face
If you have a heart-shaped face, your face appears widest at the cheekbones and becomes narrower, tapering to your chin. You may have sharp cheekbones and a sharp or pointed chin that helps create that well-known "heart" shape. Your face is longer than it is wide but with noticeable width and a distinct cheek line. The forehead may be rounded at the hairline and the forehead and jawline may be similar in width. These characteristics come together to create a face shape that is slightly small and flattering with a wide range of sunglass options.
Your Sunglasses
People with heart-shaped faces are well suited for sunglasses that bring attention towards the bottom of the face, such as round styles, aviator and cat-eye sunglasses that help elongate the face. Look for sunglasses that create balance between the brow area and chin to help the chin appear softer without drawing attention to the forehead.
Also, consider frames that are slightly wider than your forehead to bring balance to your facial features. A rimless sunglass style can help soften angular features. Avoid oversized frames, bottom-heavy frames, and sunglass frames that feature too many design elements.
Finding sunglasses for women's face shape can sometimes be challenging but BTR aims to make the process simple by offering a wide selection of sunglasses. You'll find angular cat-eye options, as well as popular round and aviator sunglasses.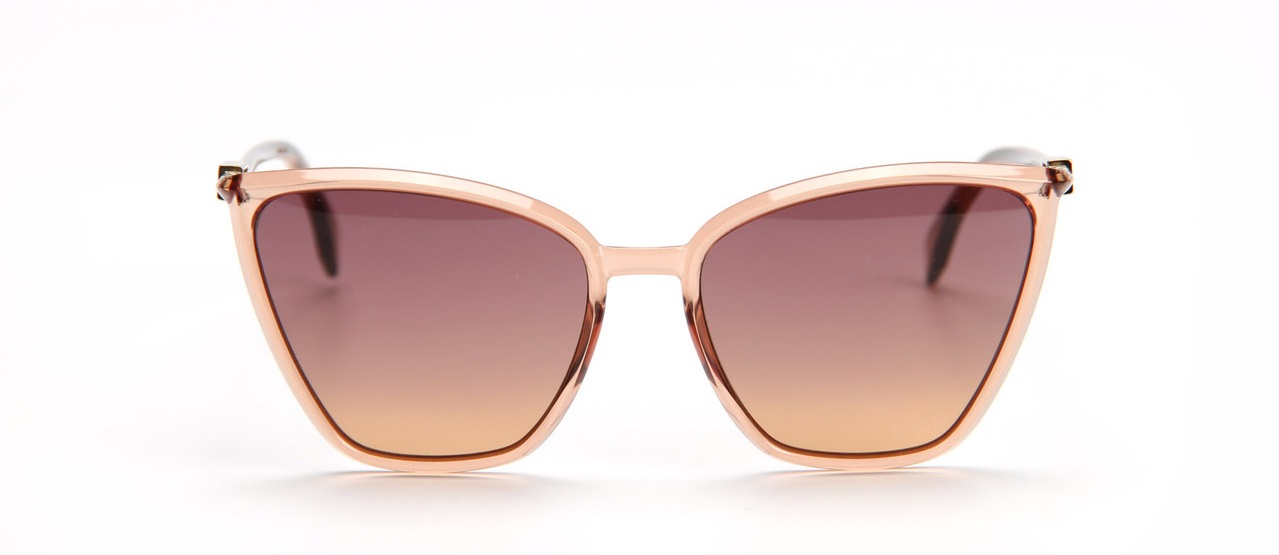 Fendi Cat Eye Frame Sunglasses
Sunglasses for Square Faces
Individuals with square face shapes can pull off many different styles of sunglasses. When it comes to proportions, a square face shape is widest along the forehead and jawline. Having a strong jawline means sunglasses must sit higher on the nose and add length to help flatter this unique face shape. The aim of sunglasses for square faces is to help soften some of the sharpness. Try different prints and patterns to accentuate your features, such as half rim glasses, tortoiseshell, metallic gold, or bold frame color.
Characteristics of a Square Face
If you have a square face shape, your face is equal in length and width. Your jawline and forehead may be similar in appearance and your chin is noticeably flat or square. You have a strong jawline that is squared off and your cheeks are fairly straight. Your face is widest at the cheekbones and your forehead is broad and likely straight along the hairline.
Your Sunglasses
Sunglasses for square faces should feature curved frames that help balance out your angular facial lines, such as round, cat-eye, aviator, and oversized styles. If you have bold features, you can choose a larger frame but if not, stick to small- or medium-sized frames. D-frame sunglasses are a suitable option but only if they have minimal detailing and soft edges.
To draw attention to your strongest features, try a rounded, dark frame instead of an angular frame. Round sunglasses can help soften the contours of your face and accentuate your best features. Experiment with semi-rimless and rimeless styles that won't overwhelm your face.
At Beyond the Rack, you'll find many incredible sunglass styles for square faces, including D-frame and round options in several colors and patterns.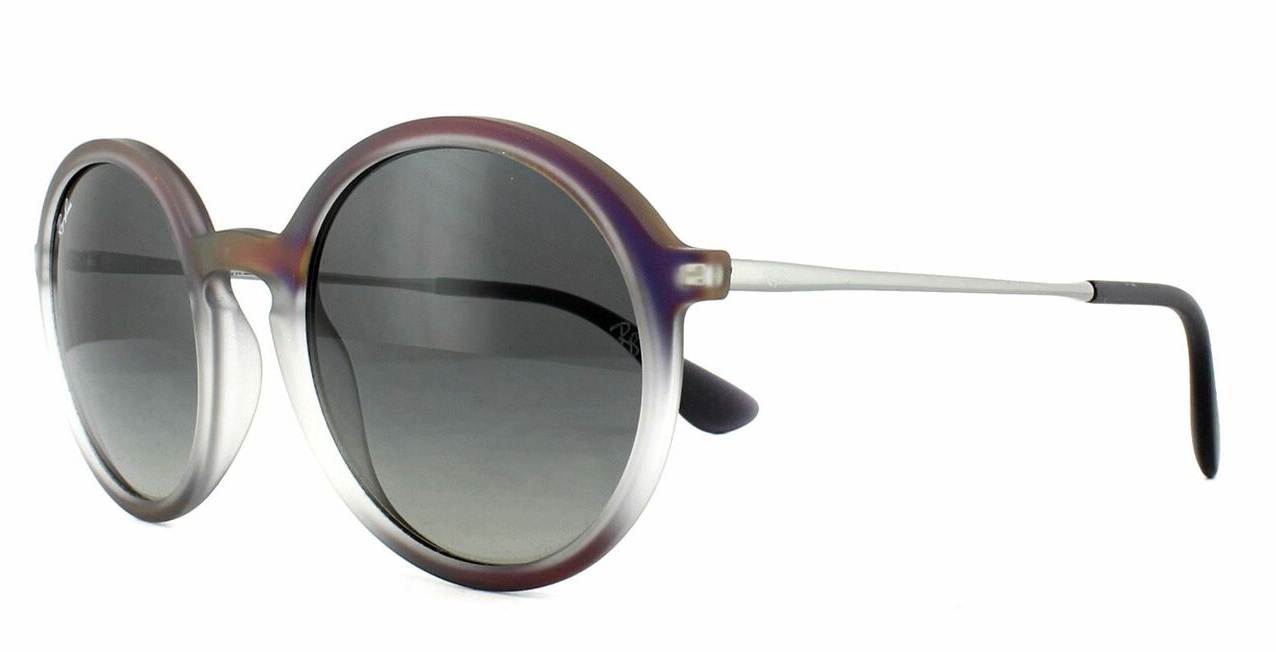 Sunglasses for all Face Shapes
What sunglasses fit my face? This is a common question based on many factors, such as your face shape, personal style, and color preferences. However, there are some sunglasses that flatter nearly all face shapes. Aviators, for example, look especially good on square and heart-shaped faces but look amazing on nearly any face shape. While wide face sunglasses are best suited for square or oblong faces, classic cat-eye styles can give nearly any face a retro look.
Shop Beyond the Rack Designer Sunglasses
"I want female sunglasses for my face shape, but I don't know what shape it is exactly!" Sound familiar? If so, Beyond the Rack has the designer sunglasses you're looking for. From sunglasses for oblong faces to popular styles in many sizes, colors, and materials, we have styles that will fit anyone. You're sure to find your next favorite pair of shades. BTR has authentic sunglasses from all the top designers, such as Coach, Dior, Fendi, Givenchy, Gucci, Ray-Ban, and Tory Burch. Start your search for a pair of shades that flatter your face shape.