How to best use and clean my outdoor rug?
Posted by Beyond The Rack on 2021 Aug 18th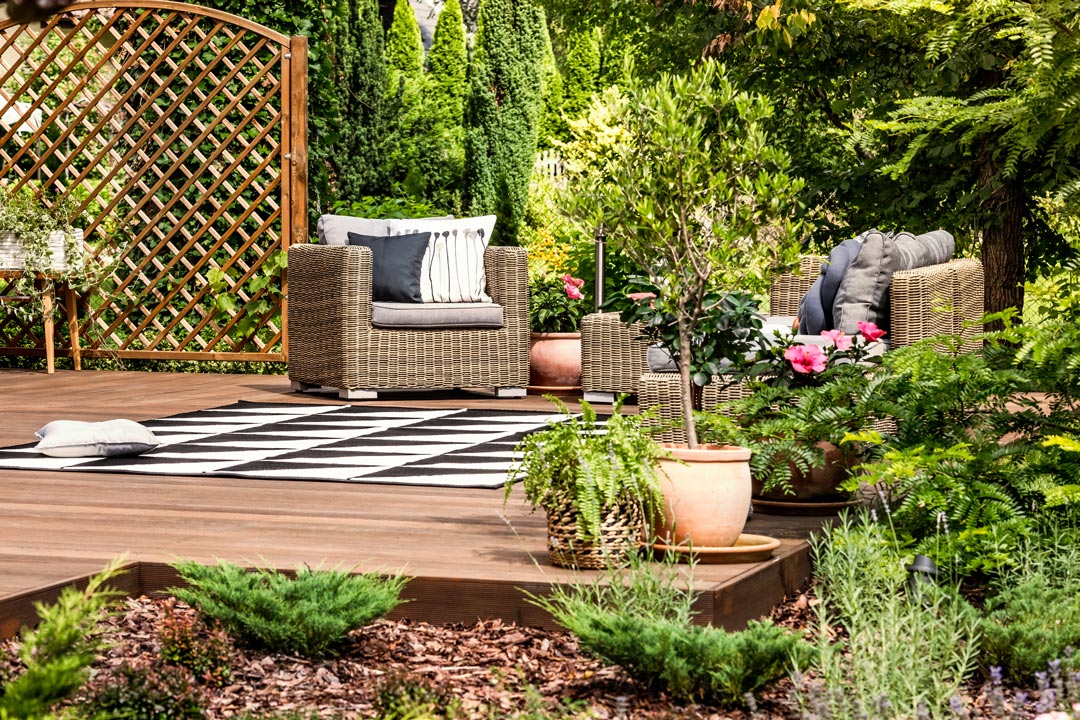 How to wash your outdoor rug with ease?
Patios and decks are a popular part of people's homes. One of the best ways to amp up the style factor of these areas is with an outdoor rug. Not only does it look good, but an outdoor rug ties all your outdoor furniture together in a lovely way. Depending on where you live, sometimes those patios are covered or uncovered, which can contribute to how dirty your outdoor rug gets throughout the year.
A lot of us wonder about a rug's maintenance like how to clean an outdoor rug, looking for some tips and tricks for how to clean a rug at home. It's easier than you might think, but there are definitely some best practices for how to wash a rug that's meant for your porch, patio, or deck. Let's look at some of the best cleaning products and techniques to keep your outdoor rug from Beyond the Rack and ECarpet Gallery Outdoor Living in tip-top shape.

Regular Home Techniques to Keep Your Rug Clean
No matter where you live, any of your outdoor rugs or carpets are going to get dirty. It's just a fact of life that weather, especially the wind, moves around a ton of dirt, dust, and debris throughout the outdoor spaces of your home. In looking at how to clean an outdoor carpet, whether it's an outdoor rug on deck or an outdoor mat on your covered or enclosed patio, it still needs some routine cleaning attention. The good news is that an outdoor rug is made to be resistant to UV fading, mold, mildew, and in general is pretty easy to clean.
Disinfect & Rinse
When you know how to wash a rug correctly, it's going to last much longer. A few times per year, as normal maintenance, you want to do an entire disinfect and rinse of that outdoor carpet. The best way to do this is by spraying a home solution of one part vinegar and three parts water on both sides before hanging the rug up on a large clothesline and hosing it off completely. When you hang it up and rinse, all the dirt and debris will run off the rug. If you don't have a clothesline, you can lay it in your driveway or on any surface that is sloped downward so that the water runs the dirt off of the rug.
Then you want to hang dry your rug in direct sunlight. You can lay it over the rails on your porch or deck without a clothesline handy.
Vacuum
Visible or loose dirt that accumulates on your outdoor rug during the week needs to be vacuumed off on a regular basis. Depending on how dirty or dusty your rug gets, you may need to do this weekly, or just once or twice a month. Keeping the dirt and debris off of your outdoor rug will keep it looking its best. Your outdoor area overall will look neater and tidier with a cleaner rug.
You don't need a special vacuum to do this cleaning task, but just make sure that the vacuum has the proper suction with a setting for multiple surfaces. The lowest setting is usually best for thin outdoor carpets.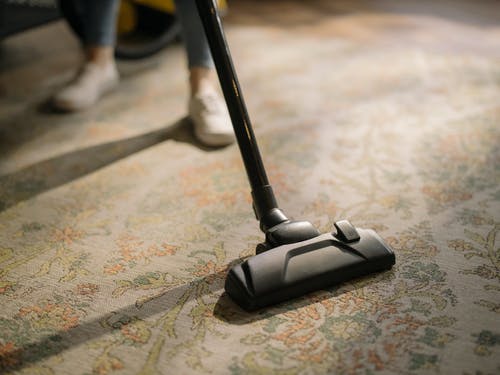 Shake & Sweep
Another way how to remove excess dirt and debris to wash an outdoor rug, is by the "shake & sweep" method. You can take a regular broom to brush away anything on the surface of the rug, and then pick up the entire rug and shake it out over the grassy area of your law.
When it's too large to shake out on your own, you can hang it over the fence to pound it with the handle of your broomstick. This will allow all the hidden dust and debris to fall away.
Spot Cleaning Your Outdoor Carpet for Big Spills
You have a party on your outdoor rug, and someone spills a large glass of tropical punch. What should you do to spot clean, so that it doesn't stain? Start by blotting the excess liquid with any absorbent material, so that the stain won't set in. Sometimes, stubborn stains will need a little bit of baking soda in order to keep them from setting it. You can then spray your cleaning product of choice to the stain and constantly blotting it until clean. We recommend our Just Green Organics Multi-Surface Cleaner Concentrate or the All Purpose Cleaner Spray, both are suitable and safe to use on outdoor rugs to get out big spills and stains, and not too harsh on the environment.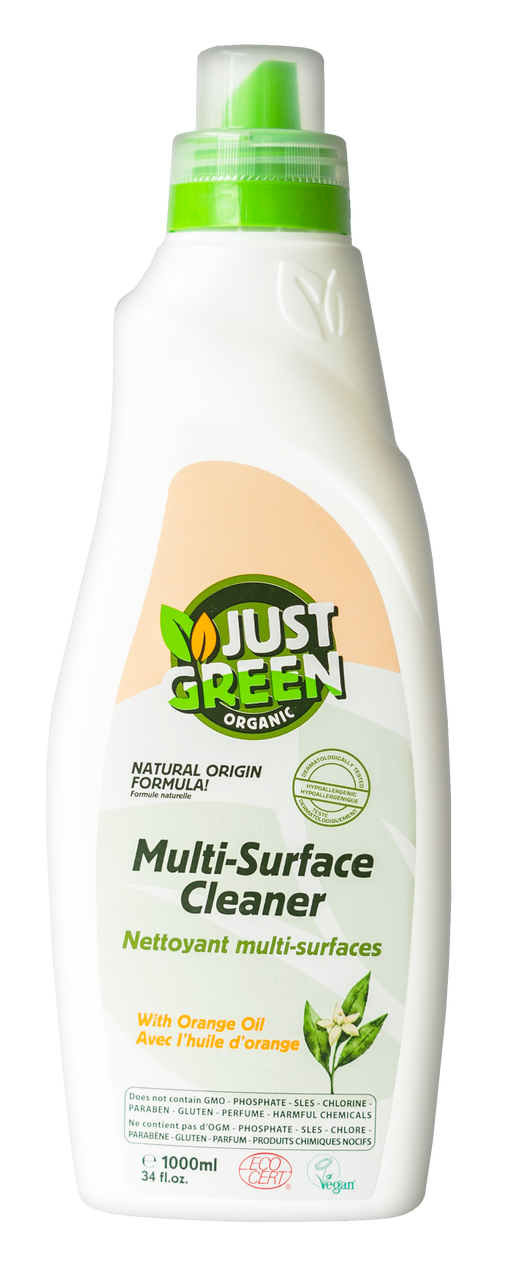 Little Tips to Keep Your Outdoor Rug Looking Brand New
There are also a variety of ways to treat your outdoor rug so that it will look brand new all year long. The more you get into the habit of doing these things, the better your outdoor rug will look.
Add Waterproof Protection
This is especially important if you don't have an enclosed porch to shield your outdoor rug from the rain. Adding waterproof protection will also help protect it from mold and mildew, if you live in a humid environment, like Florida or Georgia. Even most of the Midwest can get quite sticky and humid hot during the summer months.
Even though your outdoor rug is meant to sustain the elements, like rain, having waterproof protection will prolong the life of the rug investment in your outdoor area.
Sun-Dry to Avoid Mildew
Anytime you wash your rug, it's important to let it dry completely in the sun before you place it back down on the deck or porch. If moisture is left on your outdoor rug, it's more likely to develop mold and mildew. So, if it's outside in the rain, hang it to dry in the sun the next day.
Place it in a Dry Spot
Can outdoor rugs get wet? Well ideally, your outdoor rug wouldn't get wet at all, but that's not realistic if you don't have a covered deck or porch. Try to place it in the driest spot possible, so that it doesn't get too wet. You can always move it to a dry spot if you know a heavy rainstorm is coming.
Store When Not Used
If you live in a place that gets a lot of snow during the winter, it's probably time to store your outdoor rug when it's not in use for the season. It also help your rug from blowing away if you live in a windy environement.
Buy a Beautiful Outdoor Rug From BTR and Clean It Right
Are you ready to upgrade the style of your outdoor areas? Then it's time to buy a beautiful outdoor rug from ECarpet Gallery and Beyond the Rack. We have many different outdoor rug styles, like this Veranda Modern Outdoor Blue Rug. Stock up on the best cleaning products from Just Green Organics, so that you'll be prepared to keep all your surfaces, including your outdoor rugs, as clean as possible.
Browse through our collection of outdoor carpets