How to best dress for my body type?
Posted by Beyond The Rack on 2021 Oct 19th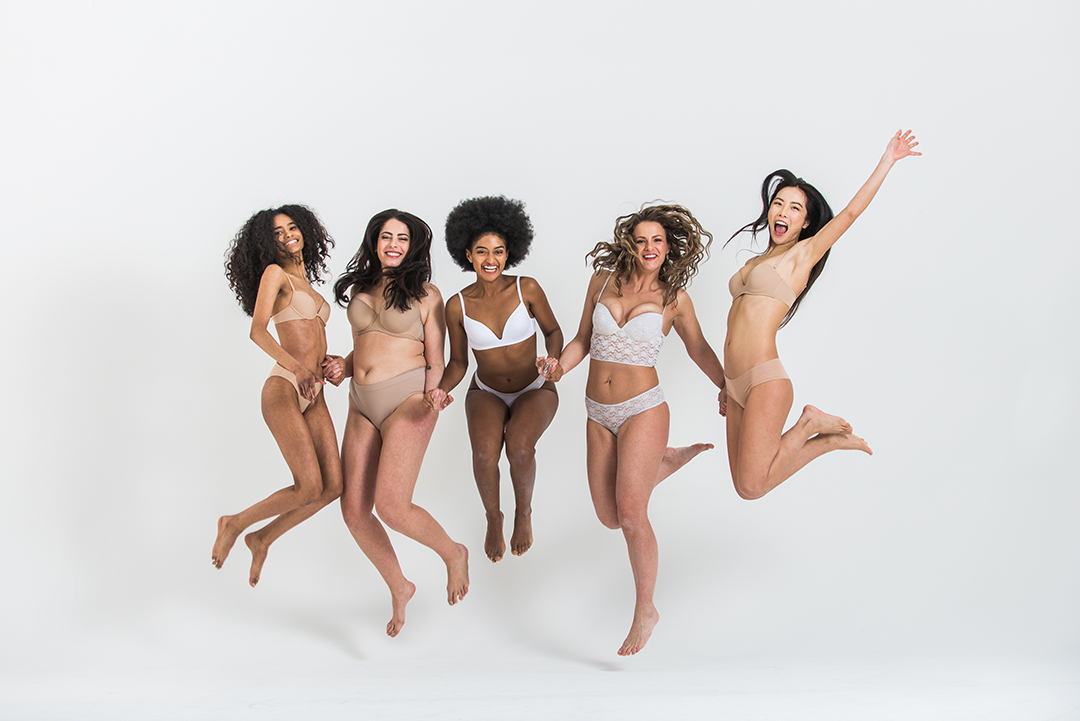 What is my body type and how to best dress for it?
Do you ever discover cute outfits, only to find that they just don't fit your body right? Finding outfits that flatter your figure is easier said than done. Every woman has there own unique body shape, making it challenging to find pieces that fit properly and comfortably. So, you may be asking yourself, "Can I learn how to dress for my body type?" Yes, you can! To make it easier to find clothing that fits, determine your body shape based on the following categories: rectangle, apple, inverted triangle, hourglass, or pear.
Rectangular Body Shape
Rectangular body shapes go by several names, such as straight or athletic. However, this body shape all comes down to measurements. One of the biggest challenges that women with rectangular body shapes run into is dressing with a subtle waist. This doesn't mean you don't have curves, but rather that you have to work harder to define your waistline.
What Is a Rectangular Body Shape?
Women with rectangular body shapes typically have shoulders, bust, and hip measurements that are relatively uniform. The waist tends to be straighter than curvy, similar to celebrities like Kate Hudson and Reese Witherspoon.
Dos and Don'ts When Styling Your Rectangular Shape
With a rectangular body shape, the upper and lower body is well-proportioned, creating a balanced silhouette. The goal is to break up the rectangle by defining the waist. This can be achieved by cinching the waist or adding volume to the upper or lower half. Casual outfits for rectangular body shape may include fun textures, prints, and details that add visual interest. When dressing formally, opt for structured clothes that are not shapeless or oversized.
Rectangular Body Shape Outfit Idea
Rectangular body shape outfits may include high-waisted jeans that highlight the waistline, and a belted jacket to provide structure and further accentuate the waist. Look for v-neck tops or blouses with detailing around the neckline, like this black lace short sleeve top.
Apple Body Shape
There is a common misconception that women with apple body shapes are heavy. However, this is not always true. Apple body shapes are characterized by a larger top section and roundness in the midsection. Women of all sizes can take on this shape regardless of clothing size.
What Is an Apple Body Shape?
Women with a typical apple body shape have wider, rounder, shoulders, a larger ribcage, undefined waistline, narrow hips, slim limbs, and an average to large bust. Weight gain is usually most visible in the central torso or tummy area.
Dos and Don'ts When Styling Your Apple Body Shape
The apple body shape tends to be top heavy due to having a fuller chest and little to no waist definition. The goal is to balance out the upper body by adding more fullness or curves to the lower section. Keep formal wear materials slightly fitted with soft fabrics that glide over the body. In your casual wardrobe, consider adding bright colored bottoms and avoid clothing with excessive fabric around the midsection.
Apple Body Shape Outfit Idea
Apple body shape outfits should define the waist and flaunt your best assets. Take attention away from the mid-riff with a V-neck with a flowy fit. Draw attention to your legs with a pair of flattering skinny jeans. Complete the outfit with an open cardigan that is not too clingy, helping to elongate your figure.
See The Fitted V-Neck Knitted Short Sleeve Top
Inverted Triangle Body Shape
Having an inverted triangle body shape means that your shoulders are the widest part of your frame. To create balance, the objective is to add volume to the lower part of the body while softening the shoulder line.
What Is an Inverted Triangle Body Shape?
Women with an inverted triangle body shape generally have shoulders that are noticeably wider than the hipline. The waist has little to no definition and the hips are flat and straight compared to the broad shoulders. With an inverted triangle body shape, the bust can range from small to large.
Dos and Don'ts When Styling Your Inverted Triangle Body Shape
When styling an inverted triangle body shape, avoid clothes that create more volume at the shoulders. Steer clear of heavy detailing or loud patterns around the shoulders and neck. Instead, wear clothes that balance your broad shoulders and create the illusion of a defined waist. Draw attention to your legs, such as with formal dresses fitted at the bottom, or choose casual styles that add volume to the hips.
Inverted Triangle Body Shape Outfit Idea
The best inverted triangle body shape outfits help define the bust and waist while making the shoulders and hips appear more proportionate. Consider a fitted white blouse that is simple and classic, paired with straight jeans that showcase the legs. A belted trench coat can cinch the waist and create balance.
Browse Our Fall Into Fashion Products
Hourglass Body Shape
The hourglass body shape has hip and bust measurements that are fairly equal in size, creating the illusion of an hourglass shape. This feminine silhouette looks great in a wide range of fashions, but there are a few pieces of clothing that you'll want to avoid.
What Is an Hourglass Body Shape?
Women with an hourglass body shape have slightly rounded shoulders, a small and defined waist, larger thighs, rounded bottom and hips, and a bust and hips that are the same width. Weight grain is generally distributed evenly throughout the body.
Dos and Don'ts When Styling Your Hourglass Body Shape
When styling an hourglass body shape, avoid oversized garments or clothing that adds volume to the hips and shoulders. Swan neck style jumpers and heavy prints are also a no-no. Do wear fitted tops, as well as V-necks and round necklines that help accentuate your top section.
Hourglass Body Shape Outfit Idea
Hourglass figure clothes can range from casual jeans and a t-shirt to a sophisticated formal sheath dress. An A-line full skirt can make your waist appear even smaller and a super fitted round neck white top is a simple yet elegant pairing. Bring your outfit to the next level with a short leather jacket that stops just above your hips and accentuates your curves.
See The A-Line Full Skirt
Pear Shape Body
Pear body shapes tend to have narrower shoulders and busts with wider hips. The goal with a pear shape body is to balance out the figure by emphasizing the top half and making the hips and legs appear slimmer.
What Is a Pear Body Shape?
With a pear body shape, the shoulders are narrower than the hips and are sometimes sloped. The top half of the body is smaller in comparison to the bottom, often with a smaller bust. Due to larger hips, the waist is more defined. Weight gain in women with pear body shapes tends to be most visible around the thighs, hips, and lower mid-riff.
Dos and Don'ts When Styling Your Pear Body Shape
When styling a pear body shape, gravitate towards bright colors and prints on the upper body and darker hues on the bottom half. Choose dresses and tops with statement sleeves, as well as tops with detailing like ruffles or embellishments. Avoid adding volume around the waist or drawing attention to the hips or legs.
Pear Body Shape Outfits
When shopping for pear body shape outfits, you'll want to create the illusion of volume on the upper body while de-emphasizing the lower body. A structured sleeves top can provide this volume, while a flaring skirt can create balance between the upper and lower halves. Bring the outfit to completion with a long and fitted jacket that draws the eyes upwards.
Formal Wear: Dresses
There is always an occasion in which a formal dress can come in handy. Maybe you have an upcoming wedding to attend, have been invited to a business dinner, or want to look your absolute best on your date. Here are the best dresses for body type options mentioned above:
The Dress for Rectangular Body Shape
The best dresses for women with rectangular body shapes include those that will balance the upper body and create fullness in the hips. This may include dresses with strategic ruffles, embellishments, or other volume-increasing detailing. Try a fitted and flared dress with a fitted waist and roomier skirt.
The Dress for Apple Body Shape
If you have an apple body shape, stick to dresses that draw attention to your upper body, such as drop-waist dresses, belted styles, and swing dresses. Empire designs, in particular, can create the illusion of a high set waistline, making you appear taller.
The Dress for the Inverted Triangle Body Shape
If you have a busty figure like women with inverted triangle body shapes, shop for A-line dresses that add volume to the hips with a fuller skirt. Opt for necklines like the classic V-neck, scoop, halter, or sweetheart.
The Dress for the Hourglass Body Shape
The best dresses for women with hourglass body shapes include those with cinched-in waistlines, form-fitted tops, open necklines, and V-necklines. Consider a mermaid silhouette with a form-fitted bodice.
The Dress for the Pear Body Shape
Pear body shapes look incredible in a wide range of dress styles, such as strapless tops, V-necklines, fitted open necks, and A-line or full skirts. One-shoulder designs can also draw attention to the face and neck areas.
Dressing for your body type doesn't have to be a struggle. Start by taking your measurements and determining your body shape. Look at what styles are best suited for your unique curves, taking proportions into consideration. At Beyond the Rack (BTR), we have women's styles for all body types. Shop our selection of latest fashions today.